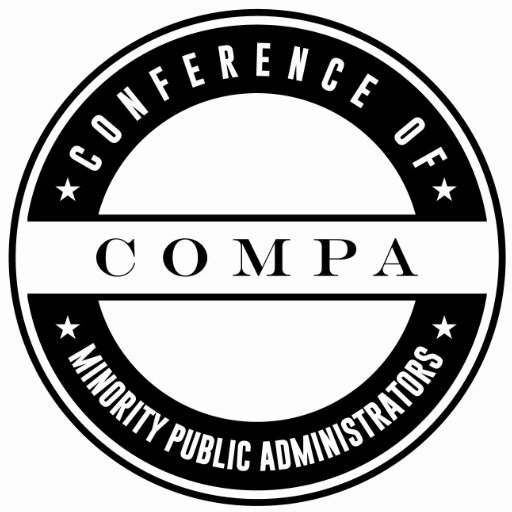 The Conference of Minority Public Administrators (COMPA), a section of the American Society for Public Administrators (ASPA), extends condolences and stands with the family of George Floyd and others murdered by the police. We support all victims of police brutality and citizens of goodwill who demand justice and an end to police and vigilante violence against Black people in the United States and other countries. We are outraged by the deaths of 27-year old Breonna Taylor of Louisville, Kentucky; 25-year old Ahmaud Arbery of Brunswick, Georgia; 27-year old Rayshard Brooks of Atlanta, Georgia; in addition to 46-year old George Floyd, a resident of Minneapolis, Minnesota. COMPA vehemently condemns all forms of cruelty and injustice toward people of color, especially African Americans/Black people.
On May 25, 2020, Terry Chauvin, a Caucasian male, Minneapolis, Minnesota police officer, pressed his knee into the back of the neck of Mr. George Floyd, a 46-year old African American man for eight minutes and 46 seconds. Mr. Floyd, lying face down on the ground, pleading for his life, cried out to his mother and said, repeatedly, "I can't breathe." Citizens used cell phones to document the gruesome murder of Mr. Floyd at the hands of a White police officer. The videos, broadcast widely in all media venues, have shaken the United States and the world to its core with twelve plus days of coast to coast protests bringing thousands of people into the streets of America and countries on every continent despite the global pandemic.
The recent protests triggered by the tragic death of George Floyd have sparked a renewed interest in racial discrimination, social justice, and police brutality. Yet, the polarized political climate precludes a rigorous and systematic analysis of the root and proximate causes of the problem. For instance, former Obama Administration Secretary of Homeland Security, Jeh Johnson, pointed out that "Systemic racism is across every institution in America." Secretary Johnson's insights stand in stark contrast to those of National Security Advisor, Robert O'Brien, who stated on CNN in May 2020 that there is "no systemic racism in U.S. law enforcement…just a few bad apples." Similarly, some public officials and part of the media have attempted to compartmentalize and explain the peaceful protests and the unfortunate destruction of property in some communities without understanding the historical and contemporary systemic challenges that have led to these responses.
In "Criminalizing a Race," Mclntyre (1992) charged that sociologists who attempted to characterize the African American experience through a lens of urban unrest failed to acknowledge the structures in America that institutionalize African Americans to the bottom strata of the society. COMPA does not condone lootings and damage to both public and private property. But, we believe that the recent events have been framed in ways that belie the underlying causes and impede our ability to find viable solutions to the intractable problem of systemic racism. We further believe that public administrators at all levels of government, community leaders, collectively and individually, as well as socially responsible corporations, can participate at this historic moment in America by acknowledging that structural racism exists, and follow up by committing resources to dismantle it. The recent events present a "policy window" (Kingdon, 1995), an opportunity to change the dynamics of policing in the United States. It is unconscionable that forward-thinking leaders will fail to meet this moment.
COMPA believes that racism in all of its forms is the underlying issue in the death of George Floyd, Breonna Taylor, and Ahmaud Arbery and scores of others, including Dr. Martin L. King, Jr. The repeated failure to deploy common sense in citizen – police encounters where the purpose, in the incidence of George Floyd, was to address the issue of a counterfeit $20.00 bill is evident. The encounter escalated to a chokehold, and the extraordinary use of excessive force with a knee on Mr. Floyd's neck while pinned to the ground. This is one example of the countless deaths of black people at the hands of police officers in the United States. The healing process can begin by addressing the scourge of racism and police violence through the imaginative reconfiguration of police policies, practices, and community-police relationships.
Policy, Practice and Police Accountability
We recommend that public administrators, legislators, community leaders, and law enforcement agencies implement the following measures: use of force policy review/changes, civilian oversight of police departments, measures of police accountability, community policing as the foundation of all police policies, and the development or expansion of protective structures that include social workers and other professionals. These are the preliminary components of change that we encourage public administrators and community leaders to consider.
Additional recommendations:
Federal Policy
Establish a national standard for police use of force;
Demand that all police departments in the U.S. review and revise their use of force policies in alignment with the desires of the local community;
Change the standard for use of force from "reasonable" to "necessary" with a definition that explicitly delineates the elements of necessary use of force;
Remove qualified immunity, a legal doctrine in the federal law which protects government officials from lawsuits for discretionary actions in their official capacity;
Remove the rollback by the U.S. Justice Department of consent decrees with police departments found to be in violation of federal laws;
Establish a witness protection program for police officers who want to report criminal police practices in their agencies but are fearful of retaliation;
State Policy
Review and implement former President Obama's 21st Century Taskforce's recommendations for police reform;
Enhance civil liability for police officers and police departments found to be in violation federal, state or local laws protecting U.S. citizens;
Use a special prosecutor to investigate and prosecute police use of force complaints;
Local Policy
Require that police leaders provide local government and residents with a strategic plan that demonstrates their commitment to reducing police violence on the black community;
Implement community policing as philosophy across all police departments committed to improving community-police relationships and building trust;
Implement a duty to intervene policy which would require all sworn officers at a scene where physical force is used to either stop or attempt to stop another officer when the force used is inappropriately applied or no longer necessary;
Establish public-private partnerships to listen, learn, and develop community-based programs to support, protect, and mentor black and brown boys in the community.
Develop healing circles where community members can speak freely and safely about their relationships with police departments in their communities;
End criminal justice policies that result in the criminalization of communities of color, racial injustice, and mass incarceration.
These recommendations should be considered as a starting point for improving community-police relationships.
George Floyd, Minneapolis, MN - 2020
Rayshard Brooks, Atlanta, GA - 2020
Breonna Taylor, Louisville, KY - 2020
Ahmaud Arbery, Glynn County, GA - 2020
Anthony Diaz, Springfield, IL - 2020
Antwon Rose, Jr., Pittsburgh, PA - 2018
Philando Castile, Falcon Heights, MN - 2016
Terence Crutcher, Tulsa, OK - 2016
Freddie Gray, Baltimore, MD - 2015
Walter Scott, N. Charleston, SC - 2015
Laquan McDonald, Chicago, IL - 2014
Michael Brown, Ferguson, MO - 2014
Eric Garner, New York, NY - 2014
Ramarley Graham, New York, NY - 2012
Trayvon Martin, Sanford, FL - 2012
Oscar Grant, Oakland, CA - 2009
Sean Bell, New York, NY - 2006
Abner Louima, New York, NY - 1997
Malice Green, Detroit, MI - 1992
Rodney King, Los Angeles, CA - 1991
Amadou Diallo, New York, NY - 1990
Dr. Martin Luther King, Jr., Memphis, TN - 1968