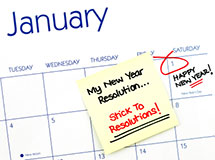 One tradition that many people pledge at the start of the New Year is creating a resolution and a commitment to stick to it. Many resolutions can be related to health, finances or personal relationships. Of all of the resolutions explored, one resolution I've come across is doing a "mental health garage sale". Similar to organizing a garage sale, this unique resolution involves thorough organizing for a successful sale, pricing the merchandise, and displaying all of the items that need selling, in order to create space for something new or improved.
It is important to understand how and why the mind and body work together; it's all connected. Over the past decade incorporating mental wellness within physical health has become a priority for many people. Incorporating some small changes like taking frequent breaks to avoid typical stressors, a day at the spa, a brisk walk during lunch, attending a support group or learning a new hobby are just a few examples. Good nutrition, exercise, rest are all great for maintaining optimal health, in our mind and body.
According to Mental Health America, here are a few of steps to help families cope with anxiety over tough economic times. (For a list of resources in your area, visit www.mentalhealthamerica.net.)
Make a New Year's Resolution: Make it your New Year's Resolution to reduce stress and anxiety over the economy. Start by turning off the evening news and spending quality time with loved ones. Taking a step back will help you gain long-term perspective and focus on the people who matter most in your life.
Focus on Your Health: The relationship between physical health and mental health is important. Focus on finding the right balance in your diet, through exercise and getting a good night's sleep.
Don't Make Rash Decisions: Making any decision on the spur of the movement is never a good idea. Try not to react immediately to bad news.
Don't Stress Over the Things You Can't Control: Focus less on the things you can't control, like the stock market and the cost of living, and more on the things you can. Review your expenses and see where you can make cuts. Postpone that vacation or eat out a little less. Use the opportunity to find things to do with your loved ones that bring you closer and cost less, such as a family game night. or
Don't be afraid to seek help: If the anxiety becomes too much, find someone you can talk to about what you're going through. Don't be afraid to ask for help from family members, friends, and a professional, if necessary.